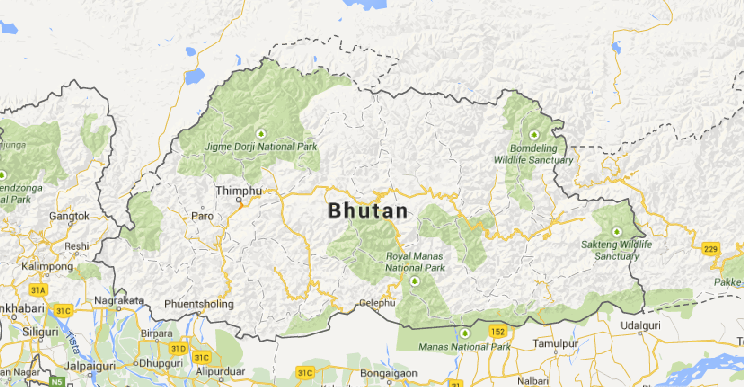 Air Travel
Druk-Air, the national airline of Bhutan, is the only airline that flies in and out of Bhutan. To enter Bhutan, a visitor may board the Drukair from any of the following airports: Kathmandu, Nepal; Bangkok, Thailand; New Delhi, India; and Kolkatta, India.
We can arrange your Drukair tickets – at a much cheaper price – since purchasing in Bhutan will not attract VAT or, you can get your travel agent to purchase from one of the many Drukair Reservation offices around the world. Upon request, we can forward to you the name and address of the reservation office in your country.
AIRCRAFT
Druk-Air has a modern fleet of two Airbus A319 aircrafts.
Due to the small size of the aircrafts, cargo capacity is limited. As a result, checked in baggage can get offloaded during peak seasons. However, in most cases, offloaded baggage is delivered on the next flight. As a matter of policy, tourist baggage gets priority and is seldom offloaded.
Carrying capacity of the aircraft will be determined by many factors such as ground temperature, wind speed and weather conditions. Full load capacity is sometimes not possible depending upon the condition prevailing on the day of the flight.
CHECKED-IN BAGGAGE
All passengers are allowed check-in baggage free of charge as follows: Executive Class 30 Kgs. Economy Class 20 Kgs.
HAND BAGGAGE
Only one baggage is allowed.
BAGGAGE/CARGO SIZE LIMITATION
Extremely over-sized packages cannot be loaded on to the aircraft's cargo hold. Please consult us on the maximum permissible height and length of baggage in the aircraft when planning your trip. If you expect to carry a lot of luggage or if your baggage is likely to be bulky or lengthy, it
is a good idea to explore alternate method of shipment prior to your entry into Bhutan so that your baggage/cargo reaches Bhutan on time for your trip.
Visa Formalities
We will process Visa application with the Ministry of Foreign Affairs on your behalf. The visa processing will take minimum of five working days.
It is mandatory for the tourist to get his/her visa clearance before departing to Bhutan.
Before receiving the 100% tour payment in our Government Account, our Visa Department will not issue your Bhutan visa.
While transferring the tour payment you should also send us your scanned passport copy in JPEG format for the processing of the visa.
Once the visa is approved, it will be sent to you via E-mail. You will then have to print it out along with your E-ticket and bring them to Druk-Air counter at the airport.
The cost of visa is USD 40.
Visa can be extended at Thimphu up to six months after the payment of Nu.510
Cancellations
Tour programs booked and subsequently cancelled shall be subject
to CANCELLATION FEE as follows:
Within 30 days of start of tour programme – NO CHARGE
Within 21 days – 10 % of costs
Within 14 days – 15 % of costs
Within 7 days – 30 % of costs
Less than 7 days or cancellation without notice – 50 % of costs
After arrival in Bhutan – 100% of costs
TARIFF
MINIMUM TOURIST TARIFF
The minimum tariff fixed by the Tourism Authority of Bhutan for
tourists visiting Bhutan in-groups of 3 or more persons are as follows:
Peak Season: March/April/May/ September/October/ and November . Rate : US $ 250 per Night.
Lean season : January/February/ June/July/ August/December . Rate : US $ 200 per Night.
The minimum daily package rates shall be inclusive of the following:
Royalty
Charges for accommodation
Food and beverages (excluding alcohol) as per the "Minimum Meal Entitlements"
Service of guides
Transport within Bhutan
Riding ponies and pack animals on treks
Trekking staff and equipment( sleeping tents, dining tents, toilet tents)
Not included in the package are the following;
Cost of air ticket
Alcohol; international truck calls
Medical expenses
Personal shopping
Visa Fee of US$ 20.00 per entry payable at the Airport upon Landing
vi. Air port tax
Tariff for Individuals (FITS)
Individuals traveling single or in a group of two shall be subject to a surcharge as follows:
Single Individual : US$ 40 per person/night halt
Group of 2 : US$ 30 per person/night halt
The surcharge will not apply to representatives of foreign
travel agents on business study or promotional visit duly approved
by the TAB.
Please note that any rates quoted besides the above given rates is illegal and against existing government policy. Rates quoted below the above given rates could lead to poor services such as guides, hotels, travel comfort within Bhutan, etc. The Department of Tourism regulates a standard rate to ensure the country's policy of encouraging high quality, low volume tourists.
The rates given above are applicable per tourist per night halt in Bhutan. On the day of departure, the local agents' host obligation shall be limited to breakfast only and any extra requirements shall be payable on actual basis.
The rates shall apply uniformly irrespective of location and the type of accommodation provided/asked for. List of hotels and lodges approved for international tourist accommodation shall be issued by the Department of Tourism and updated from time to time.
PAYMENTS (FITS)
100% payment shall be made in advance and in US dollars. The payment be remitted by Telegraphic/Electronic transfer to the Account
of:
Bank Address
Standard Chartered Bank Ltd.,
One Madison Avenue, New York,
NY 10010-3603
SWIFT Code: SCBLUS33
CHIPS ABA: 0256
FED ABA: 026002561
Beneficiary Bank Account : 358-202-171-9001 (USD A/C)
Beneficiary Bank : Bhutan National Bank, P.O Box 439,GPO Building, Chang Lam, Thimphu, Bhutan SWIFT Code: BNBTBTBT
Beneficiary/Ultimate Beneficiary : Account No 41889019 of Bhutan Lakhor Tours &Treks maintained with BNB, Thimphu, Bhutan
A copy of the remittance of the transfer must be sent to us by fax in order that we can process the visa and ticketing. NOTE: Please note that the payment for Druk-Air is a must to secure confirmation with the Airways. The Tourism Authority of Bhutan (TAB) will not process visa if the payment is being delayed.
DISCOUNTS ON TOURIST TARIFF
The following discounts shall be allowed:
Diplomats from foreign embassies/missions accredited to Bhutan shall be given a 25% discount on the daily rates.
There shall be no charge for Children up to the age of five years. However, those between the age of six to twelve years accompanied
by elders shall be given a 25% discount on the daily rates.
Full time Students below the age of twenty-five holding valid identity cards from their respective academic institutions shall
be given 25% discounts on the daily rates.
A discount of 50% on daily rates shall be given to the member in a group exceeding ten persons.
A 100% discount shall be given to one member in a group exceeding sixteen persons.
A discount of 10% on the daily rates shall be provided for halts between eleven to twenty nights and a 20% discount on halts beyond twenty-one nights.
Filming in Bhutan
The rules and rates for filming in Bhutan differ from that of normal rates of Tours & Treks. Tourists' professionals' intend of filming on Bhutan must abide by the Bhutan Filming Regulations, 1995, available with the implementing agency i.e. the Tourism Authority of Bhutan. (The Regulation does not apply to feature and cinematography films).
Applications for a filming permit must be submitted to the Tourism Authority of Bhutan at least 30 days in advance. The application must be accompanied by:
Synopsis of the film – theme/background/objective/purpose
Specific location/objects/activities
Composition of the filming team and the list of equipment including accessories and consumables (Filming crew members have to pay
full daily tourist tariff)
Letter of recommendation from sponsoring agency (application form available with TAB at the cost of Nu. 300.00)
Royalty on Filming
First 30 minutes or part thereof – US$ 10,000
Next 30 minutes or part thereof – US$ 6,000
Every additional 30 minutes or part thereof – US$ 3,000
Miscellaneous Information
Clothing: Not to forget that you are heading for the mountains with a wide range of temperatures appropriate
dressing can be varied. From May to September normal traveling cloths
plus a light woolen sweater or a light jacket and a lightweight walking boots are sufficient. From November to end April on the other hand, you will need very warm cloths including underwear or woolen tights to wear under trousers, thick socks, strong boots and down Jackets.
Custom Regulation: The Bhutanese authorities strictly prohibit the export of any religious Antiquity or antiques
of any type. All personal electronics, Cameras, Video Cameras, Computers must be listed in the arrival forms and will be checked on departure. Two liters of Alcohol may be brought into the country without duty. Tobacco, however, is banned and is subject to 200% custom duty if brought into the country.